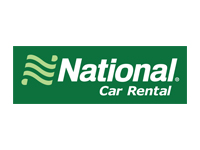 About National Car Rental
National Car Rental® is one of the world`s largest car rental companies with approximately 3,000 locations in 72 countries across the globe. So, whether you need to go to the East Coast for business or to the Eastern Hemisphere for vacation, National offers great deals for botaniCo members.
Member Benefits
botaniCo members receive up to a 20% discount, unlimited mileage, plus coupon offers.
Up to 20% off
Unlimited mileage
These rates are valid on all car types for daily, weekly, weekend, and monthly rentals. Discounts are available at participating National Car Rental locations in the United States, Canada, Europe, Africa, and the Middle East.
Making Your Reservations
You can reserve your car online right now, and as a botaniCo member, you will receive other great offers, including coupons for one free weekend day and one free upgrade.
Or, if you prefer, you can book with your travel agent or call National at 1-800 CAR RENT® (800-227-7368). To receive the rates above, you must provide your botaniCo contract ID 5001124 at the time of reservation.
Terms and Conditions - Discount applies to base rate only. Taxes (including GST/VAT), other governmentally authorized or imposed surcharges, license recoupment/air tax recovery and concession recoupment fees, airport and airport facility fees, fuel, additional driver fee, one-way rental charge and optional items are extra. Renter must meet standard age, driver and credit requirements (may vary by country). 24-hour advance reservation required. May not be combined with other discounts or promotions. Availability is limited. Subject to change without notice. Offer valid at participating National locations. Blackout dates may apply.
Contact Information
800-227-7368
www.nationalcar.com/index.do?action=/hotDealsTemplate&msg=ZL_vgmClub