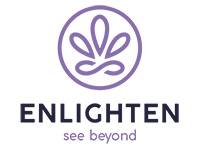 About Enlighten
Enlighten is the first full-scale enterprise solution in the cannabis space. Enlighten is managed by a team with a collective 20 years of experience serving Fortune 500 companies, first-class retailers, and top-end brands all over the world, and brings cutting edge retail technology to the cannabis industry. With an education-forward approach, Enlighten helps its partners grow their brand and build relationships with their customers through a variety of solutions. Its technology solutions are intended to increase revenue and awareness and keep customers engaged. As an aggregation of several notable companies from both inside and outside of cannabis, Enlighten is one of the most well-funded, wide -reaching, and longest-tenured companies in cannabis.
Member Benefits
botaniCo members receive 50% off set-up costs and monthly costs for Smart Menus with enrollment in Enlighten TV and 10% off any other product in the PS catalog.
Click here to view the Enlighten product catalog.
Contact Information
Lucas Davidson
[email protected]
866-442-1191 ext 416
Shannon Oleyar
[email protected]
866-442-1191 ext 301