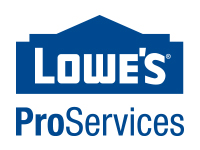 About Lowe's Pro Services
Lowe's offers two different ways to save:
Offer #1 Savings with Lowe's Account Receivable (LAR)
The LAR will allow you to take advantage of any in-store specials and a 5% savings, PLUS a 2% discount if paid in terms. The LAR account is valid at all Lowe's stores nationwide. To apply, complete the LAR application below and return to botaniCo at [email protected] for processing.
If you would like to link an existing LAR account to the program, please fill out the online request form at https://www.lowesforpros.com/l/special-programs.html. Enter track code D004.
Offer #2 Savings with Lowe's for Pros Online Discount
Sign up and automatically be linked to the program and start receiving the pro rated discounts on products throughout www.lowesforpros.com. The Personal Online Shopping Account will allow you to make purchases online and then have the option for delivery or in-store pickup.
Under "New to Lowe's For Pros?" Check the box next to "Have a Pro Account ID?".
Enter Pro Account ID:

71DFE3CA62

. Click "Register".
A prompt will ask "Would you like to join VGM Group" , Click "Continue" to join the VGM Group (**VGM Group is a botaniCo partner**)
Enter your Email Address, Organization Name, and State. Click "Continue"
Complete the profile section with your information, then Save & Continue.
Complete the profile section for your organization's location.
Be sure to select you agree at the bottom of this page.
Once all is completed select "Complete Sign-Up".
You're all set and can begin purchasing!
Tip: Remember to go to www.LowesForPros.com to see Pro pricing.
Visit http://www.lowesforpros.com/Services for complete list of commercial services.
Documents and Resources
Contact Information
For assistance in filling out forms or for general questions:
Contact botaniCo
1-877-426-8264