About NACB
The NACB is the most trusted credential in cannabis. Membership in the NACB tells regulators, consumers and the industry that you operate at the highest level of ethics and responsibility.
Mission‍: To shape Cannabis into a safe, responsible, and ethical industry.
Vision: The NACB is shaping the future of the cannabis industry. We partner with subject matter experts and our verified network of the most innovative, professional and trustworthy cannabis companies. Together, we establish national standards and best practices to ensure consumer safety and business responsibility.
Purpose: To give a voice to cannabis businesses and provide them tools to grow and thrive in the industry.
Member Benefits
National Standards 'Industry Best Practices': The NACB collaborates with members and cannabis industry experts to carefully craft innovative best practices for NACB Members to adopt and adhere to in the hopes of creating the safest and most compliant space for cannabis users, business owners and professionals.
Access to NACB Signals: NACB Signals is an interactive tool that enables you to monitor cannabis bills and legislation instantly throughout the United States. NACB Members receive monthly reports on cannabis legislative movements in their headquartered state.
Education Perks Generated by Green Flower Media: NACB Members receive one complimentary Premier Membership to Green Flower Media's platform along with a free certificate (Fundamentals, Cultivation, Patient Care, Sell-SMaRTTM, Law, Business, Medical or Extraction) and discounts on all Green Flower Media platform tools and services.
Insurance Perks Generated by Bolton: On average the NACB Members benefit from 20% lower premiums in both risk management and cannabis coverage. Members also receive a free consultation on existing coverage to ensure that their businesses are fully covered.
Member Discount Program Generated by botaniCo: NACB Members receive complimentary access to the NACB Member Discount Program which offers discounts to 70+ nationwide suppliers like Cintas, Grainger, Lowe's, Staples and more.
NACB Events: NACB Members receive invites to exclusive symposiums designed to provide resources, insight and education into the cannabis industry. These events are sponsored, co-hosted and organized by top industry brands and are motivated to help you network with other like-minded professionals in the industry.
Elevated Legitimacy: The NACB Medallion tells your audience and consumers that you operate at a higher level. Post the NACB Medallion on your website in in your business to show that you are responsible, trustworthy and compliant.
Testimonial
With extensive years of service in negotiating discounts for a wide range of industries, Dawn is able to take that experience and apply it to the cannabis industry. She successfully provides the industry with discounts that would not have otherwise been available to them. She's lovely to work with, extremely responsive and always willing to go above and beyond.
Gina Kranwinkel, C.E.O. , National Association of Cannabis Businesses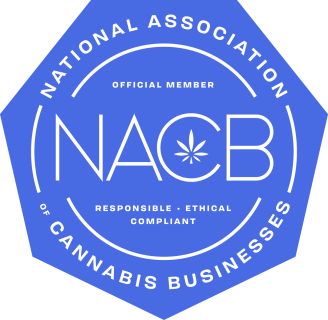 Updated 07/26/2022